We're on a mission to make lighting circular. Our circular lighting model cuts waste out of the equation and helps our clients meet their sustainability and budgetary targets through the remanufacturing process. Whatever your interest is, get in touch today!
Make an enquiry or receive updates on our circular lighting
Waste is a design flaw. It's time for circular lighting.
There's no upside to waste – it's bad for the environment and costs money. "Circularity" is nothing but common sense – we want to keep good quality lights in service for as long as possible, upgrade them during their lifetime and take them back for remanufacture and redeployment after that. We think recycling should be the last resort.
Circularity has huge benefits for businesses. Our Circular Lighting Service is built around providing good quality lighting with zero upfront cost, lifetime performance guarantee and the potential to upgrade LED efficiency as the technology advances. This is no purchase agreement – we save you money by cutting waste out of the bottom line.
Our journey to circularity

We want our circular lighting range to provide affordable, good quality circular products that our clients can trust. We are learning and building on each success and are honest about the progress we still need to make – the transition to circularity is a challenging but rewarding journey and we are committed to getting our circular product range just right.
We believe the best way to do this is by listening to what our clients want and combining this with our experience in lighting and circularity. We'd love to discuss your specific needs to find the best solution for you.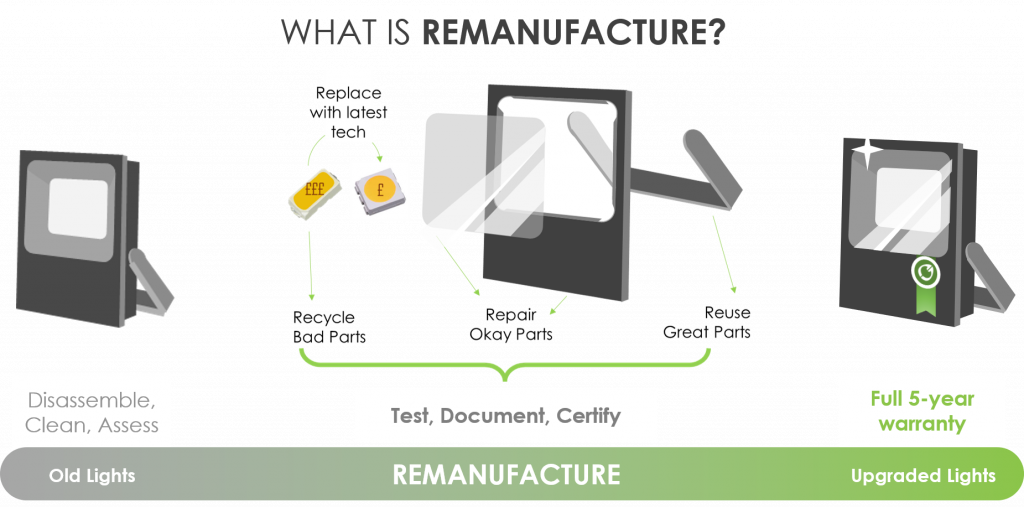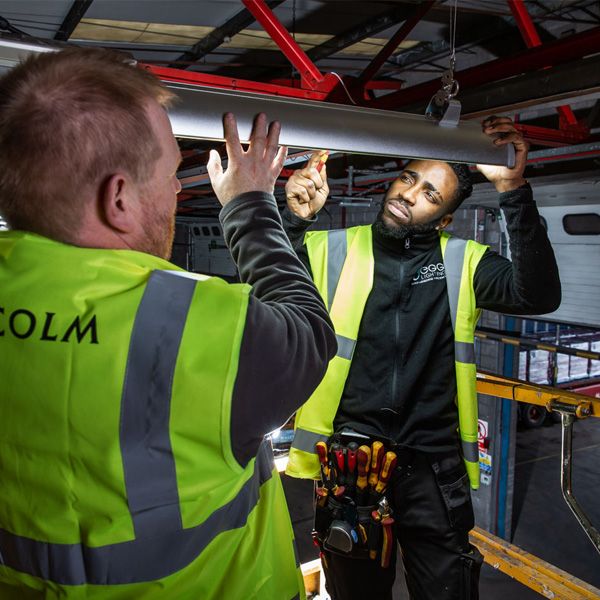 Circular lighting and remanufacture
Remanufacture takes a used product and returns it to as-new condition, with a full warranty – it's considered the best technique in the circular economy.
We minimise waste by keeping and refreshing components in good condition while replacing LEDs and drivers, then putting the reassembled product through rigorous testing. There are cost saving initiatives in remanufacturing as it produces a 'new' product at a reduced price to the customer. Remanufactured lights have the same quality and performance you'd expect from an brand new EGG Lighting product at a fraction of the price.
We think remanufacture should be considered whenever a lighting system is being replaced. If you are replacing a good-quality lighting system get in touch and we may be able to offer a free collection service or even a buyback.
Data and digital passports

This is sustainability with an innovative touch. We think every light should have a QR code that you can scan on any smartphone to pull up complete technical, warranty and circularity info for that asset. It's called a digital passport and it means anyone has the information available to arrange repairs, upgrades or buybacks – keeping good lights out of skips. This also lets us provide customers with accurate sustainability reporting so they know how much waste and CO2 their lights have saved!
If you are interested in trialling this innovative approach our team would love to hear from you!
Our 2021 report on remanufacture

Download the report we co-authored with University of Strathclyde researchers on remanufacture in the lighting industry below. Sign up to our circular mailing list to stay in touch as our circular initiatives develop!
Built to last. And evolve, at the same time.
Circularity is about upgrading not wasting. It's a common sense approach and we pass the benefits to you.
Our Circular Lighting Service is designed to cut waste out of the equation. It has zero upfront fees and a lifetime performance guarantee.
Get even more out of your lighting. We are developing 'digital passports' for our circular lighting and can provide a comprehensive suite of sensor, controls and IoT options.
Circular Lighting - combined with IoT
Our experienced Technology team can implement standard IoT systems or develop solutions bespoke to your needs, extending the benefits of circular lighting:
EMERGENCY LIGHTING AUTOMATION
Lights that take care of themselves.
Synchronised testing of multiple lights
Customisable schedule
Real-time results on your phone or PC
Be anywhere, anytime.
Noise, occupancy and motion sensors
Up to 640 connected locations
Real-time notifications of unusual activity
Turn fluctuating demand into full-time control.
In-and-out order tracking 
Overstocking prevention
Easy equipment location
ENERGY AND ASSET STATUS MONITORING
Keep your facility the best it can be.
Early fault detection
 Spare parts ordering
 Round-the-clock energy optimisation