Our circular lighting model cuts waste out of the equation and helps our clients meet their sustainability and budgetary targets through remanufacturing used LEDs. 
Remanufacture returns a used product to at least its original performance, with a warranty at least equal to that of a newly manufactured equivalent – it's considered the best technique in the circular economy.
To minimize waste, we can maintain and refresh components, replace old LEDs and drivers, and rigorously test every reassembled product. There are cost saving initiatives in remanufacturing as it produces the same quality and performance you'd expect from a brand new Lighting product but at a reduced price. Remanufacture should be considered whenever a lighting system is being replaced.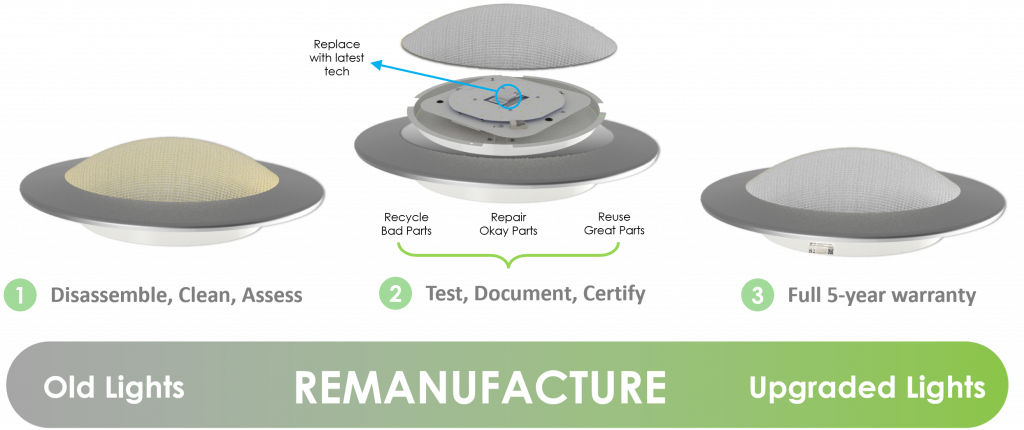 Download the report we co-authored with University of Strathclyde researchers on remanufacture in the lighting industry below. 
An LED light will typically need only 5% of its components replaced when it is remanufactured.
We want to keep good quality lights in service for as long as possible by upgrading them during their lifetime and take them to remanufacture and redeploy. Recycling should be considered a last resort!

A unique code can quickly provide information about a product.
We attach each remanufactured fitting with a unique code, providing complete technical, warranty and circularity information. This level of transparency simplifies the compliance and documentation process.

Lighting that's built to last
Circularity is about upgrading not wasting. It's a common sense approach and we pass the benefits to you.
Our Circular Lighting Service is designed to cut waste out of the equation. It has zero upfront fees and a lifetime performance guarantee.
Get even more out of your lighting. We are developing 'digital passports' for our circular lighting and can provide a comprehensive suite of sensor, controls and IoT options.
Circular Lighting - combined with IoT
Our experienced Technology team can implement standard IoT systems or develop solutions bespoke to your needs, extending the benefits of circular lighting:
EMERGENCY LIGHTING AUTOMATION
Lights that take care of themselves.
Synchronised testing of multiple lights
Customisable schedule
Real-time results on your phone or PC
Be anywhere, anytime.
Noise, occupancy and motion sensors
Up to 640 connected locations
Real-time notifications of unusual activity
Turn fluctuating demand into full-time control.
In-and-out order tracking 
Overstocking prevention
Easy equipment location
ENERGY AND ASSET STATUS MONITORING
Keep your facility the best it can be.
Early fault detection
 Spare parts ordering
 Round-the-clock energy optimisation
To find out if we can remanufacture your lighting system request your free site survey today