Lighting Remanufacture Service
Our Lighting remanufacture service gives you state of the art performance for less.
Remanufacturing Service Offerings
Maintenance Service
We evaluate your lighting and prioritise malfunctioning fittings for remanufacture. We then reinstall the lights on a rolling basis.
Remanufacturing Project
We assess, remanufacture, and reinstall your lighting fixtures using a staggered approach, resulting in no downtime.
Remove & Rehome
We assess and repurpose your unwanted lights, safely removing and relocating luminaires for installation elsewhere.
The Remanufacturing Process
Our lighting remanufacturing process aligns with British Standard "BS 8887-220 Design for Manufacture, Assembly, Disassembly, and End-of-Life Processing (MADE)".

We meticulously disassemble and reverse engineer used products to assess their remanufacturability. In addition, our testing and validation program ensures UKCA marking and compliance with regulations.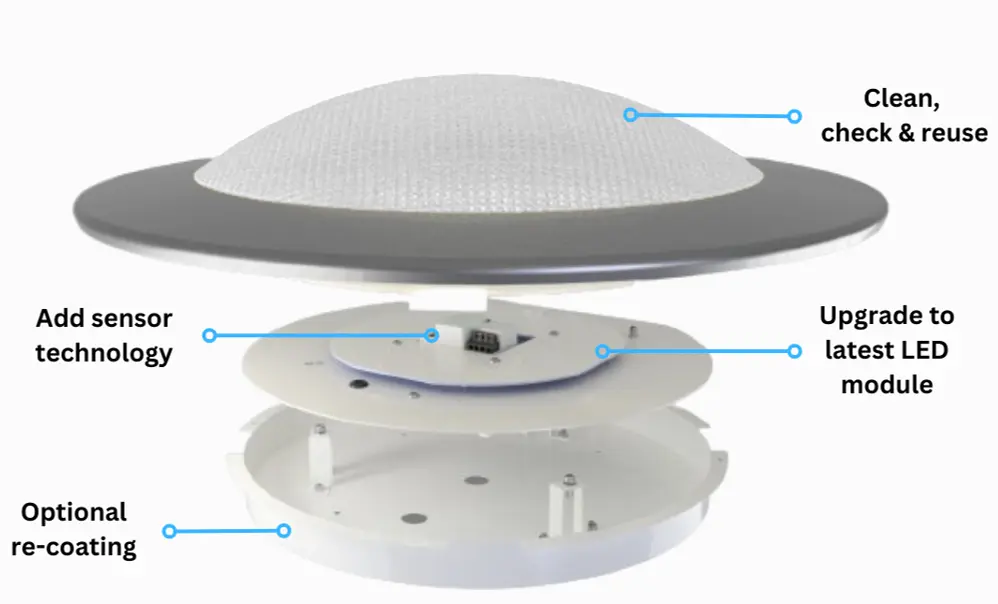 Typical Remanufacture Benefits Compared to Equivalent New Product
⚡ Energy efficiency increase (fluorescents to LED)
💨 Embodied carbon reduction (kgCO2e)
Remanufacture Case Studies
Explore our diverse range of successful projects, encompassing smart controls and electric vehicle charger installations by clicking here.
EGG Lighting
Challenge House, 29 Canal Street
G4 0AD Glasgow
United Kingdom
TreeGreen Ltd. trading as EGG lighting
Registered in Scotland no. SC333763
EGG Lighting
Challenge House, 29 Canal Street
G4 0AD Glasgow
United Kingdom