Lighting as a Service (LaaS)
What would the benefits be of buying lighting, not lights? Servitisation has been championed by Rolls Royce and Ellen MacArthur Foundation alike; EGG explains how it works and why it's got everyone so excited.
Why LaaS is the future of facilities lighting, and why you should care.
EGG lighting have 3 key aims: save money, reduce carbon, futureproof your tech. We work hard to make these goals a reality for every one of our customers.
Lighting as a Service (LaaS) is often cited as one of the top solutions in the circular economy. Its opposite, the traditional take – make – dispose model, isn't only bad for the environment, it's bad for our customer's bottom line. We use remanufacture to save embodied carbon and help organisations reach their net zero targets. LaaS is then the service that supports the lasting environmental and financial benefits of remanufacture. But there's a lot more to it than that, so let's get into it.
Unfortunately, LaaS is not a regulated term, so you may see different definitions out there. EGG Lighting subscribes to the definition provided by the Ellen MacArthur Foundation. It defines LaaS as "a concept where users pay for the light that hits their desk, rather than the physical luminaire installed in the ceiling".
What Makes LaaS Different?
The defining feature of a service is provision over ownership.
To use some classic examples, in netflix's model you do not own a film; you get the ability to access thousands of films on demand. Or xerox does not sell you a printer; it provides you with the ability to copy and print documents.
Lighting as a Service follows this trend. EGG Lighting retains the ownership of your luminaires, so that you aren't paying for the lights installed in your ceiling, you pay for the light that hits your desk. 
That means that EGG Lighting bears the total cost of ownership. This shifts our incentive to focus on quality; longevity, reliability and reusability. When consumers subscribe through this model, performance trumps volume and durability tops disposability. LaaS means companies can have an opportunity to build new relationships with consumers.
Where does LaaS fit in with EGG's other services?
Every organisation has different needs. We help public, private, large and small organisations quickly and easily access reliable energy efficiency savings. The 3 options below let us cater to how you like to do business.
A straightforward purchase of luminaires that have been designed to last. Our lights are 'Designed for Remanufacture' (DfRem). We can provide the right lights, at the right price, and provide a seamless service from from site survey to install. EGG Lighting has hundreds of happy customers and can typically provide an ROI period under 2 years (dependant on usage hours).
At EGG we want to keep your lights running efficiently forever. You're lights will already be designed to allow upgrade, please ask us for information about our rolling warranty and maintenance solutions. 
Are you essentially happy with your lighting, but you're only considering replacing it because you know it's energy efficiency is lagging behind current technology? Remanufacturing is the best option for you!
EGG Lighting take your existing luminaires and give them a full and thorough service; repair any parts not up to scratch, replace components with the latest LED & sensor technology, we can even convert your old lights into SMART lighting which can host IoT devices. All this, and of course we guarantee your upgraded lighting with a brand new 5 year warranty.
Remanufacture is typically up to 40% cheaper than buying new, but don't just take our word for it. Edinburgh Leisure were thrilled by our work under this model, which will save them 70kgCO2e and £15,000 per year.
We can seed the process of remanufacturing with some new lights so that you are never left in the dark. We agree a schedule and we work through your lighting stock with minimal disruption. If you need your project completed quickly, in one step, please get in touch and we can discuss a plan that works for you.
We want to keep your lights running efficiently forever. Give us a call to learn more about our monitoring and maintenance service.
Lighting is a golden opportunity for an organization to position itself for the future because of its ubiquity. Because lights are everywhere, the upgrade to the newest LEDs gives organizations the opportunity to deploy IoT sensors and controllers along (or in some cases within) the lighting infrastructure.
In addition, LaaS doesn't trap you into 'On balance sheet' financing. Introduced in January 2019, an accountancy standard called IFRS 16 drastically changed the way leases and services were displayed on your companies balance sheet. LaaS allows your lighting to be provided 'Off balance sheet'; helping your companies bottom line because you pay only for the light you use, and not the physical lighting infrastructure.
The LaaS model enables services far beyond lighting. These can be launched at any of the periodic scheduled upgrades to your LED technology. They can include sophisticated security, traffic monitoring and the building management system (BMS), among other services. Give us a call to ask about our monitoring and maintenance service in more detail.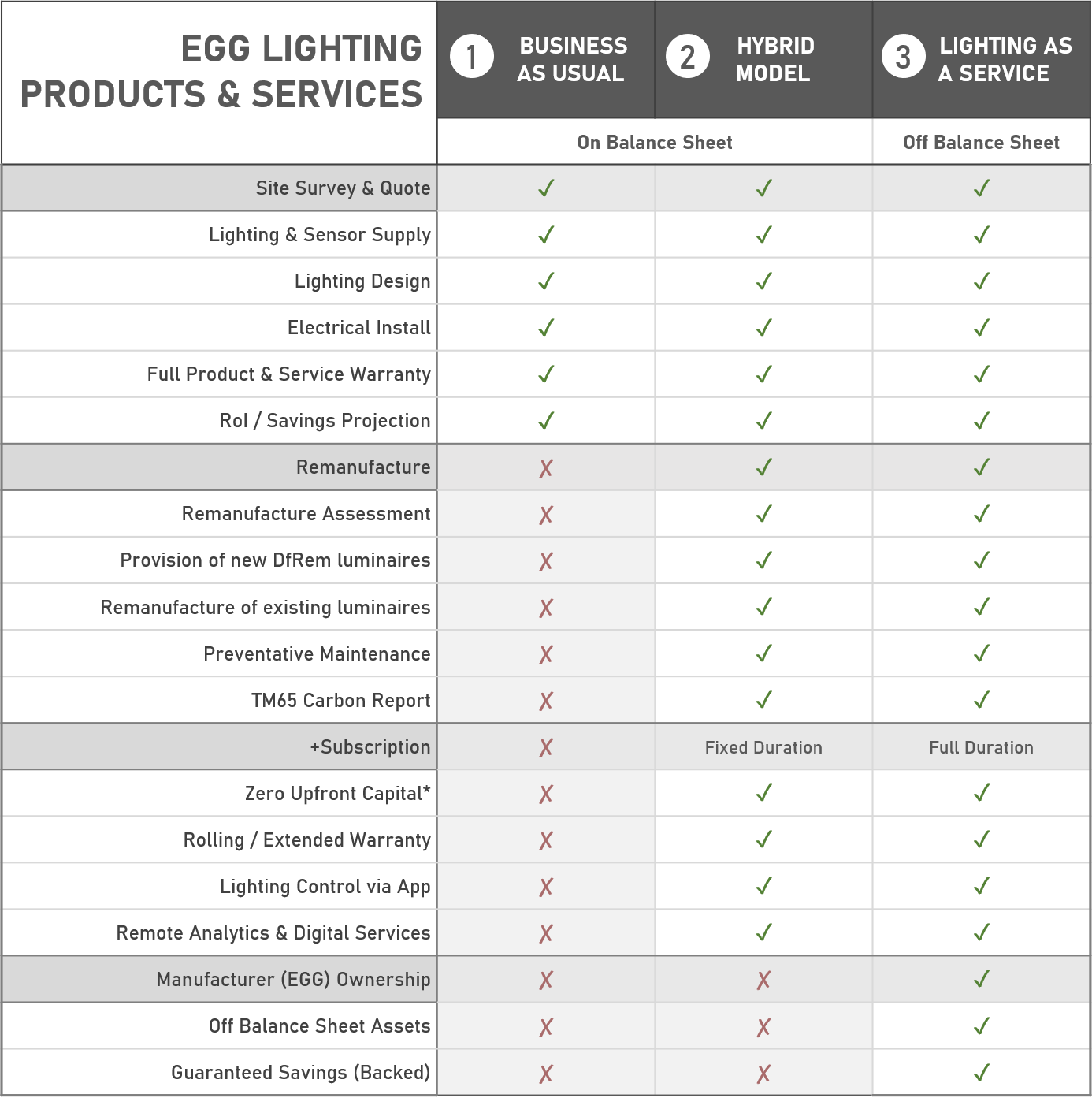 In Short
While other companies may claim to offer Light as a Service, most are in fact offering normal lights on a normal finance agreement. With EGG Lighting's Light as a Service model, you get an industry leading remanufacture service, and off balance finance. There is zero financial risk, as we make the capital investment into the upgrade and LaaS is cash generative from day one.
Be the first one in your organisation to notice the tide towards servitisation, and make the smart choice today. Your accountant will thank you for it.
What next?
Whether you want to know more about LaaS, remanufacture, or our commercial lighting services, the next step is a conversation. Speak to us about the options that best suit your organisation on
0141 416 2624
or email
[email protected]
.
Fill out the form below, and we'll call you back to discuss the best option for you.