Discover the transformative power of modern lighting controls. 
EGG Multitool - Lighting Control System
Our latest lighting control system uses Bluetooth Mesh device called the "Multitool" can be integrated to an already existing lighting system or installed with newly purchased lights. This creates an IoT capable network, bringing function rich systems to your lights and sensors.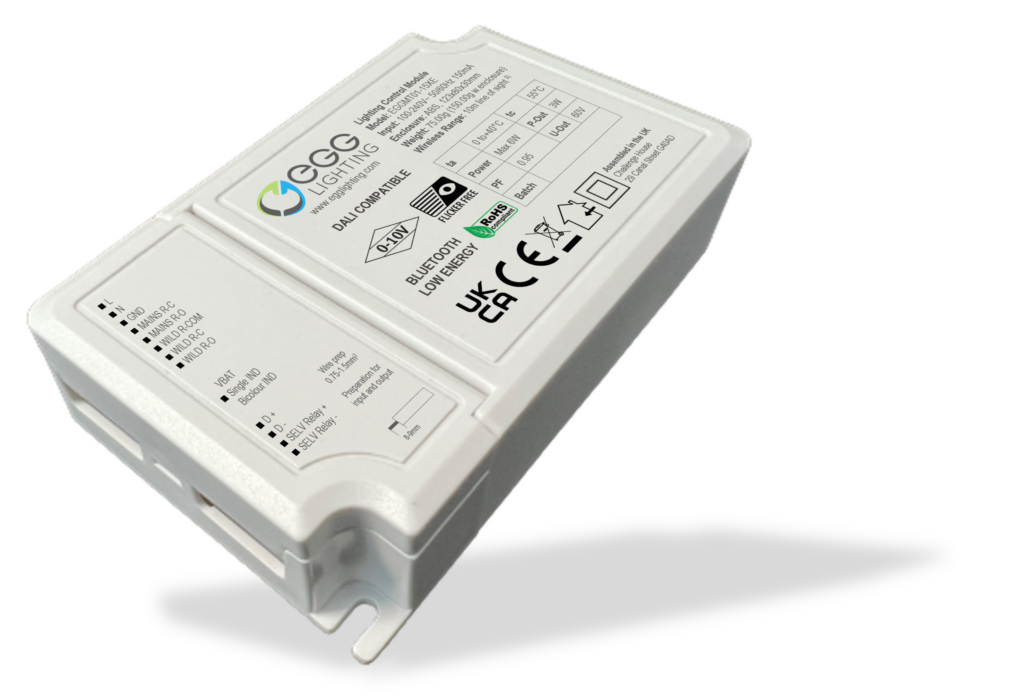 There are 3 platforms currently which we maintain and develop:
1. Automated Emergency Lighting testing and reporting.
2. Environmental monitoring; temperature, occupancy etc.
3. Lighting controls using Bluetooth Mesh.
     KEY BENEFITS
Easy Installation: Local wiring is all that's needed, there is no need for trunking or complex installation.
Enhanced connectivity: With Bluetooth mesh protocols, you can manage and secure your network.
DALI protocol: Enhanced control using lighting specific protocols that are tailored to your needs.
Legacy Compatibility: Relay's allow for on/off control with existing legacy lighting circuits.

Platform

Effortless system management and installation with user-friendly live maps and floorplans. 
Our latest App and platform offers a streamlined approach to the installation and monitoring of your lighting system. The integration of our Multitool into your fittings provides real-time access to automated reports on your lights' status, reducing the expenses associated with maintenance while increasing overall convenience. 
Scheduled configuration: Fully customise your preferred lighting configuration across the working day.
Manual or dynamic control: Live floorplan displays provide the ability to adjust pre-set configurations remotely or on-site, offering a streamlined solution to enhance operational efficiency.
Live energy monitoring: Set custom thresholds and accurately measure the energy consumption of your facility with our platform. By deploying appropriate sensors, you can monitor atmospheric conditions, such as temperature and CO2 levels, for a comprehensive overview.

FOCUS
Cost savings
SMART controls
The Project
Raytheon contacted EGG Lighting to help them implement a new lighting control system that could reduce their running costs and help them regain control of their lights.
The Solution
We migrated the existing lighting system and installed a secure lighting control system for Raytheon.
Our in-house R&D team designed a Raspberry Pi touchscreen control interface giving Raytheon's team complete control over their lights securely, and offline. We split the lights into light zones and DALI-linked these with our Bluetooth Multitool, utilising Bluetooth mesh technology to regain the functionality of Raytheon's lights. This system enables Raytheon to modify their light levels as their needs change. They can easily schedule on, off, and dim periods based on occupancy levels to specific days and times.
Kinetic switches were also installed to future-proof the lighting system. The kinetic switches use energy harvesting and do not require wiring or external power, which is a huge bonus for their energy-saving goals. Live energy monitoring is provided through the Raspberry Pi allowing Raytheon to access their energy consumption levels in real-time.
The Results
£48,000+ savings in energy bills per year.
167,981 kWh power savings per year.


Allan Ramsay
Facilities Manager at Raytheon
"Our main goal for our Livingston site is sustainability, and we wanted a light system that would echo this. EGG Lighting gave us a lighting system that is sustainable beyond what we could have imagined – we now want this to be an example for the rest of our UK sites."
To find out more about our energy efficient lighting controls and sensor systems,
Get in touch with a member of our team on 0141 416 2624 or email

[email protected]
Fill out the form below, and we'll call you back to discuss the best option for you.