Site Survey and Lighting Design
The key to a successful upgrade in your lighting system and infrastructure is effective planning.
Start with a no-obligation site survey, free of charge today.
Start your project right with our free site survey
Take advantage of our free site survey where we assess your lighting and electrical systems and produce a comprehensive ROI analysis. We specialise in customised lighting designs tailored to your business needs. Our experts offer recommended product specifications or remanufacture options. To enhance energy savings, we can incorporate IoT lighting controls and environmental sensors. 
Start the process by completing the form below. Be sure to include as much information as possible.
We'll promptly arrange a consultation to discuss your project options. Feel free to reach out to us at any time.
We'll visit your site at a time that suits you best, evaluate your setup and determine the optimal solution.
Our NICEIC accredited electricians will arrive on-site and efficiently install your new lighting system. 
Hassle-free site survey & installation
We understand the importance of having a reliable and trustworthy lighting and electrical site surveyor for your business. Let us help you achieve your sustainable development goals, reduce energy costs, and comply with building regulations.
EGG Lighting's engineers adhere to CIBSE lighting levels and our remanufactured products are UKCA marked and complaint with BS 887, ISO 9001 and ISO 14001, ensuring that every project is implemented to the highest standards. Our electricians are fully NICEIC certified, and as members of the Zhaga community, we keep up with the latest industry developments. Additionally, our Mitie approved service provider status ensures the highest standards of quality and professionalism.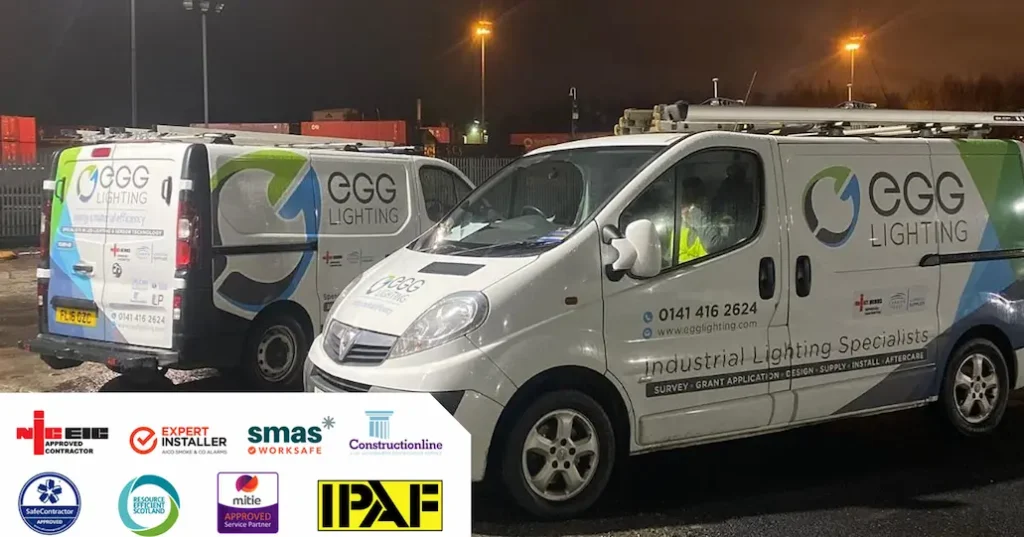 Funding and Support Options
There are renewable energy incentives available to businesses of all sizes. Some of these incentives can be combined, depending on your business and project. Call us on 0141 416 2624 for guidance on what you may be eligible for. 
Please complete the form below, and our team will promptly contact you to arrange a consultation and discuss your requirements.
Fill out the form below, and we'll call you back to discuss the best option for you.