Livingston, UK – Lighting Controls
The Project
Raytheon's previous lighting provider had gone into administration, leaving them with a system that was costing them a fortune in energy bills. Raytheon contacted EGG Lighting to help them implement a new lighting control system that could reduce their running costs and help them regain control of their lights.
The Solution
EGG Lighting migrated the existing lighting system and installed a secure lighting control system for Raytheon.
Our in-house R&D team designed a Raspberry Pi touchscreen control interface giving Raytheon's team complete control over their lights securely, and offline. We split the lights into light zones and DALI-linked these with our Bluetooth Multitool devices, utilising Bluetooth mesh technology to regain the functionality of Raytheon's lights. This system enables Raytheon to modify their light levels as their needs change. They can easily schedule on, off, and dim periods based on occupancy levels to specific days and times.
Kinetic switches were also installed to future-proof the lighting system. The kinetic switches use energy harvesting and do not require wiring or external power, which is a huge bonus for their energy-saving goals. Live energy monitoring is provided through the Raspberry Pi allowing Raytheon to access their energy consumption levels in real-time.
Reduction in energy consumption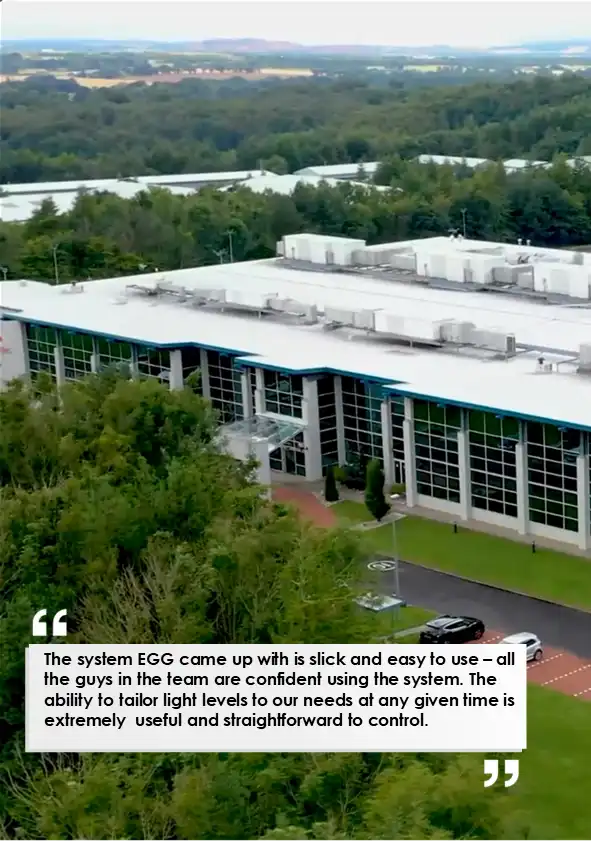 Allan Ramsay
Facilities Manager at Raytheon
"Our main goal for our Livingston site is sustainability, and we wanted a light system that would echo this. EGG Lighting gave us a lighting system that is sustainable beyond what we could have imagined – we now want this to be an example for the rest of our UK sites."