Edinburgh, UK – Lighting Remanufacture
The Project
Edinburgh Leisure approached us for a free site survey and quote for a new lighting system that would decrease their annual electricity costs.
The Solution
During the lighting survey, we identified that Edinburgh Leisure's existing lights were good candidates for luminaire remanufacture. We carried out a full TM65 report and cost savings report which showed that the remanufacture of the 40 luminaires would cost 40% less than equivalent new products with an equivalent warranty.
The remanufacturing process involved taking the fittings and stripping them back to their components. We then rebuilt the light to an as-new standard and upgraded it to match the latest LEDs. All newly remanufactured lights were UKCA tested and certified. Installation of the new lights were carried out by EGG's inhouse NICEIC certified electrical team over the course of 3 nights during non-operating hours, resulting in no downtime and zero inconvenience to the public.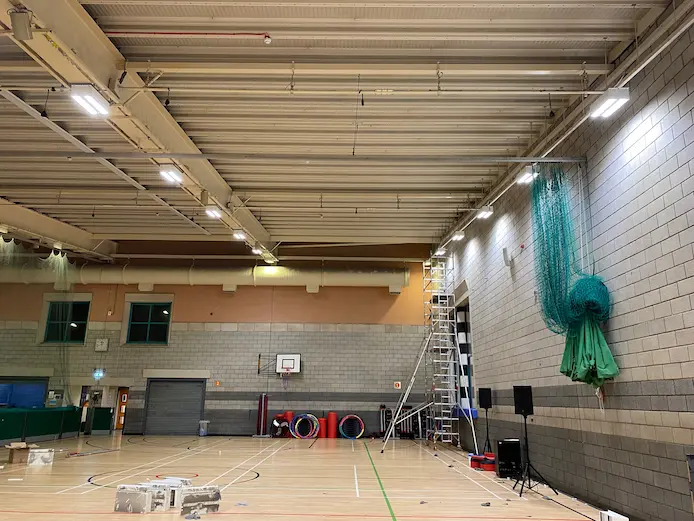 Fiona Harvey
Energy & Sustainability Manager at
Edinburgh Leisure
We were delighted that EGG lighting was approved on to our lighting framework as their sustainability credentials are unmatched in the local industry. For the first time we had fittings from one venue stripped back and rebuilt with LED and installed in another. These fittings are also modular so we can just replace parts when needed rather than the whole unit in the future. This saves an enormous amount of carbon – no need to manufacture virgin plastic, ship heavy components across the globe or dispose of casings in landfill. The new lighting will last around 10 years and across the three venues, should save us £15k in electricity a year and reduce our annual carbon footprint by over 20 tonnes CO2e, all while vastly improving our customers' experience.