What does carbon neutral mean and why does it matter?
To become carbon neutral means to reach a state of net-zero carbon dioxide emissions. There are two types of carbon emissions: embodied and operational carbon.
Operational carbon: the amount of carbon emitted during the operational or in-use phase of the building.
Embodied carbon: the amount of carbon emitted during the making of a building. This includes the extraction of raw materials, material manufacture, transport, and disposal of materials.
Becoming carbon neutral is important because most businesses must report their operational and carbon emissions to various carbon-capturing schemes. An obvious example is businesses' preparation for the
Scottish Government Net Zero target
in 2045. In addition, becoming a carbon neutral accredited business can bring several money saving opportunities. These three easy steps will help you navigate how to become a carbon-neutral company or improve your current plan.
Step 1: Assess and report your carbon footprint
Assessing your business's carbon footprint is the first step towards futureproofing and preparing for Scotland's 2045 Net Zero targets. By measuring the levels of CO2, you can identify energy inefficiency and surplus waste and develop a strategy to reduce or eradicate emissions.
In the UK, it is mandatory for businesses that meet these criteria set out in gov.uk to report various emission compliance schemes and to prove they are actively reducing their carbon emissions.
Use Our Carbon Savings Calculator
Step 2: Develop a carbon neutral action plan
A carbon-neutral action plan outlines your business's roadmap to reducing carbon emissions and is usually dictated by a specific timeframe. Similarly, a carbon-neutral action plan should identify where you emit the most emissions and outline your plans to reduce them. It is sensible to consider transport, energy usage, and waste production and disposal.
Lighting accounts for approximately 40% of all energy consumption within a typical commercial building. In addition, the energy advice hub states elements such as waste disposal under Scope 3 carbon emissions account for 80-97% of greenhouse gas emissions. Therefore, implementing electrical systems that specifically reduce light pollution is essential. A carbon-neutral action plan outlining ways to reduce emissions caused by inefficient light systems will see businesses reach their carbon reduction goals in a streamlined process.
Some resources can help you analyse your business's carbon footprint and help create emission-reducing solutions. In emissions reports, lighting is usually the first to appear, and it is typically the most rewarding to fix. But if you're not sure which solutions are best for your business, you can ask a b2b energy consultancy such as Here's the Plan for a full tailored audit of your businesses carbon savings potential.
Step 3: How to become carbon neutral with SMART lighting systems and product remanufacturing
It is common knowledge that increasing energy efficiency has the tandem benefit of reducing operational carbon emissions. For instance, LEDs use less power than traditional halogen and fluorescent light. Switching to commercial LED lights gives businesses lighting systems an energy efficiency rating of grade A or above and has cost savings of up to 90%.
SMART lighting solutions take energy efficiency one step further. With smart-lighting, businesses can set monthly electricity budgets, energy usage caps, and minimum and maximum lux light levels. SMART technology can set standard light levels that equate to the energy targets you set. IoT mesh networks carry the data to notify users when anomalies are detected. In addition, these systems will automatically comply with these limits by making intuitive adjustments. Therefore, businesses can monitor their energy consumption with SMART commercial light systems. For this reason, LED lighting is recognised as one of the most actionable and ready-to-implement technologies for businesses to transition to low-carbon practices.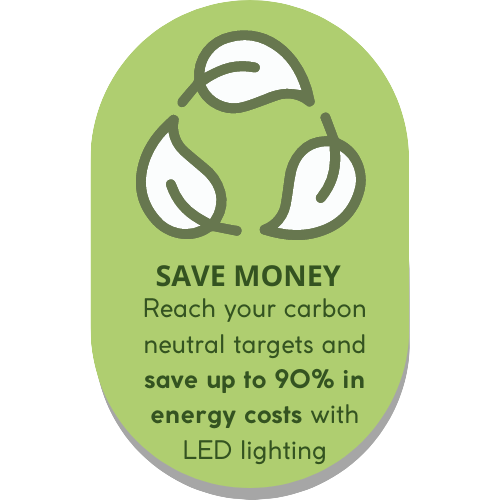 Reduce waste with luminaire remanufacturing
Every year, the UK sells around 40,000 tons of commercial lighting, yet only 7% of this WEEE equipment is collected and disposed of correctly. In light of this, EGG Lighting has developed a luminaire remanufacturing service designed to cut reliance on virgin materials and reduce waste by 2-6kg per unit.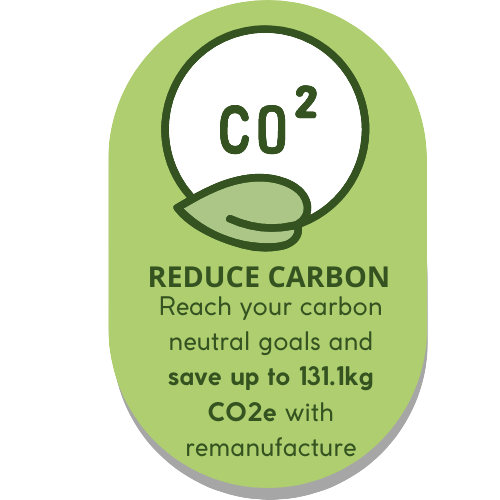 EGG Lighting's Lead Remanufacturing Engineer explains that it is usually only necessary to replace 5% of components when replacing an LED light. Despite this, many LED light fixtures are still disposed of in full. Remanufacturing solves this issue by replacing only the necessary parts, such as the LED chip and drivers. Remanufacturing keeps the original luminaire intact but works as if brand-new.. In addition, it reduces purchase costs by 20-40% compared to replacing it with a new product. These cost savings allow businesses to afford more advanced technology features than they would typically specify. In turn, this optimises operational efficiency and improves end-user experience. Examples include the replacement of "ON/OFF" controls with smooth corridor dimming and the inclusion of Bluetooth beacons to provide smart sensor systems.
Importantly, we use the CIBSE TM65 methodology to measure and improve embodied carbon as a result of remanufacture via digital passports. Digital passports allow you to see the energy and material savings achieved by providing comprehensive and reputable embodied carbon information. Moreover, with WEEE legislation due to be reviewed in 2023, leading lighting compliance schemes see "reuse" as the urgent next step. Luminaire remanufacturing, will be central to this. 
All our remanufactured lights meet industry lighting standards and are UKCA-marked. Furthermore, all EGG remanufactured lights come with a warranty equivalent to that of a new product. Read our case study here to find out how remanufacturing saved one business over £9,000 in operational costs per year, 131.1kg of CO2e emissions, and 6.1kg in waste compared to new.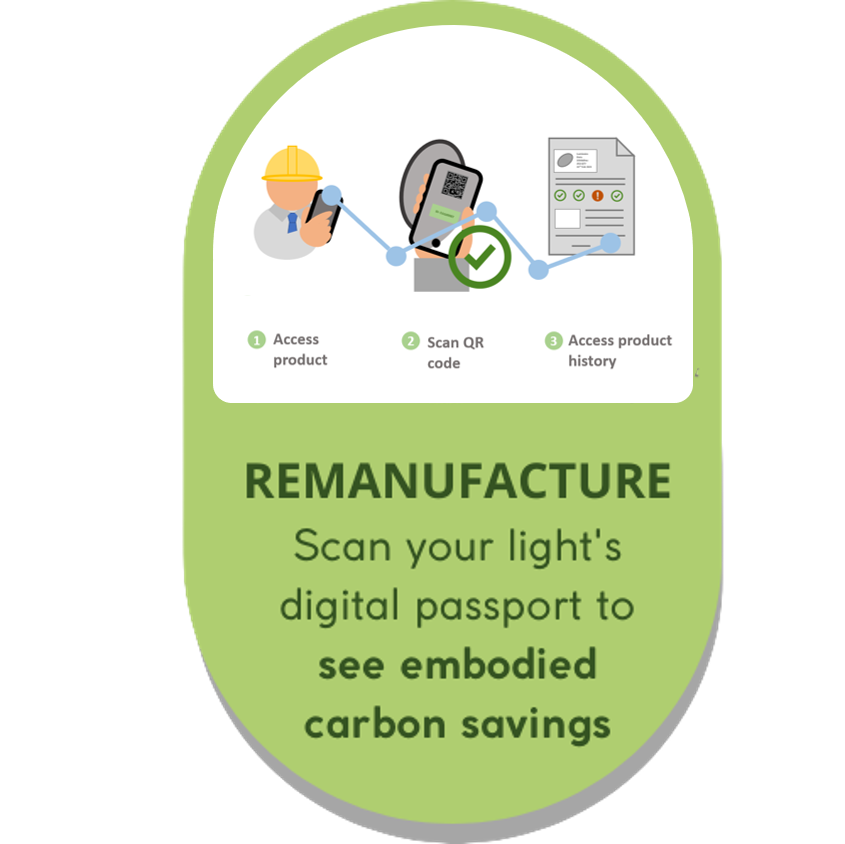 Where can I find out more?
Energy-efficient lighting and future-proof luminaire remanufacturing services can enable businesses to reduce carbon emissions and reach carbon neutrality. We can provide you with more information and a bespoke lighting design to help you achieve your carbon-neutral targets using smart-lighting systems. Contact us for more information on how to book your free site survey, or email us at [email protected].